Communications, Navigation and Audio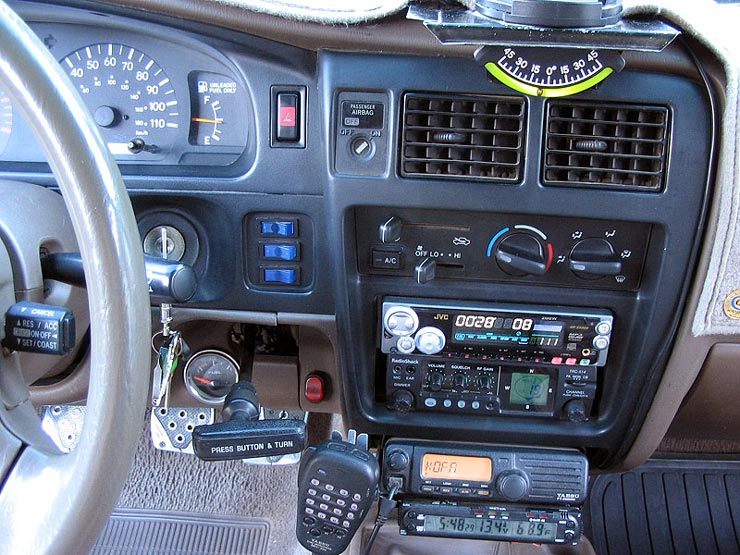 Communications:
Yaesu FT-2600M VHF 2-meter Radio

60 watts
3 sets (175 total) of memory presets incl. DTMF
Front firing speaker
8 character alpha-numeric display
Receive Freq. 134-174 MHz
Transmit Freq. 144-148 MHz
CTCSS Encode/Decode
Backlit keypad microphone
Mil-Spec construction
Antenna: Hustler SF-2 whip (5/8 wave) on Firestik hood mount

This is my primary radio for communications while on trips. The majority of people that I travel with also use this type of radio. Here in the U.S. the operation of this radio requires a minimum of a Technician class license (Amateur radio license) from the FCC. For more details, visit www.arrl.org . This is a very fun radio to use! It allows for very high quality signal and sound, and can be used with repeaters that are commonly located atop high mountains and peaks (much like wireless phone antennas). The repeater will receive your transmission and broadcast it. This allows communications over mountains where "line of sight" communications are not possible.

Radio Shack TRC-514 40 channel CB Radio

4 Watts
RF Gain adjustment
3 channel memory presets
Front panel microphone/speaker jacks
Digital compass (I disconnected it though)
Backlit display and buttons with dimmer
Antenna: K40 Superflex whip on Firestik hood mount

The CB radio is not my first choice for communications, but I keep this radio due to the fact that it is a very common mode of communications among travelers, and many people use the CB radio as their only means of talking to others during trips. The CB radio tends to have a lot of unpleasant static and noise on it and a legal limit of only 4 watts of power.

Midland 75-810 40 channel Handheld CB Radio

5 Watts
2 channel memory presets
Weather channels
External microphone/speaker jacks
12V adapter cord or AA batteries
Backlit display
Belt clip

I keep this radio handy for group runs where someone attending may not have any type of communications radio. It is easily plugged into any 12V (cigarette lighter) receptacle and at least allows the user to stay in some kind of contact with the group, although reception and transmission is poor.
Navigation:
Paper Maps

Time-proven technology
No moving parts
Does not require electricity (batteries)
Relatively affordable
Widespread availability (well... I guess that depends :-)

There is no substitute.

Silva System 7 compass

Time-proven technology
One moving part
Does not require electricity (batteries)
Very affordable
Fits in just about any pocket

A trusty old compass with a clear base plate and rotating bezel that I have had for maybe eons (?)

Magellan Meridian Platinum Hand-Held GPS Receiver

4 AA batteries (rechargeable works great)
Rubber-armored, Water-Proof (floats)
SD Memory cards = unlimited memory storage
Quadrafilar Helix antenna
Backlit Grayscale display
Backlit buttons
Tri-Axial Compass
12V adapter and mounting cradle

The GPSR is so much fun to use. It is a great navigational tool, and allows me to record my travels electronically, so I can always see where I have been on the map. Kind of a geographical photograph of sorts. I am not a "power user" with this GPSR - I mostly use it just for reference and recording trips. My favorite thing about this particular unit is the fact that it uses SD/MMC memory cards, so I can carry all the detailed maps that I want (to my hearts content!). I think Magellan needs to improve the software/SD card interface. I see no good reason not to, and especially with the new products from Lowrance that are now available (also using SD/MMC cards), I think they should take note.
Audio:
JVC KD-SX980 CD/MP3 Receiver

MP3/CD-R/CD-RW compatible
200W (4 x 50W)
Front MP3 input jack
ID3 Tag support
Multi-color LCD display (oooh! pretty!)
Remote control (nice for relaxing in bed)

Nothing too fancy, but good power and still working great after a few years of 4wd trips. I use it with some old Kenwood sub-woofers and tweeters that I mounted in a custom platform in the Xtra-cab.
| | | |
| --- | --- | --- |
| Overview Photo with Descriptions | Magellan Meridian Platinum GPSR | Evening Photo with Illuminated Electronics |
2m VHF Radio Installation Photos